Environmental Education Center
(727) 453-6800
Click here for the current schedule of programs at
Brooker Creek Preserve Environmental Education Center
Click here for Driving Directions (PDF format)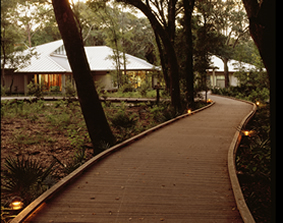 The Brooker Creek Preserve Environmental Education Center officially opened its doors to the public on June 19, 2004.
Designed by Hoffman Architects, and built by Creative Contractors, the center is nestled in the woods at the end of a winding wilderness lane off Keystone Road in Tarpon Springs. Visitors to the center may spot a frog or egret as they follow a boardwalk through the woods from the parking lot to the three-building complex. The three buildings were designed with state of the art sustainable methods and materials. The boardwalk itself is environmentally responsible, composed of reclaimed plastic and wood – materials that would otherwise go unused in landfills.
A centerpiece of the center is the 6,000 square-foot Exhibit Hall. Visitors here are encouraged to immerse themselves in the various habitats found within the preserve. The Exhibit Hall features 22 discovery-oriented experiences revolving around natural Florida and our local history. There are a variety of hands-on displays designed to be as fun as they are informative.



Inside the object theater visitors are seated inside the old Brooker barn, where they are taken back to an earlier Pinellas County, then encouraged to explore the artifacts from times past




The Classroom Building is designed to be used by all ages and groups


Inside the Exhibit Hall is a Resource Center where visitors can use computer databases to research various environmental topics for personal or community projects


The floor-to-ceiling windows in the alcoves allow visitors to observe the surrounding wilderness and wildlife

Want to get involved? There are many opportunities, and training will be provided.
Hike guide
Exhibits volunteer
Reception desk attendant
Nature Store assistant
Resource Center facilitator
Education and outreach assistant
If you are are interested in volunteering in the Education Center, please email James Stevenson, Brooker Creek Preserve volunteer coordinator, jstevenson@pinellascounty.org

Education Center hours:
Thursday 9:00 a.m. - 4:00 p.m.
Friday 9:00 a.m. - 4:00 p.m.
Saturday 9:00 a.m. - 4:00 p.m.
Sunday 11:00 a.m. - 4:00 p.m.
The center is closed Monday,
Tuesday, Wednesday and holidays.
For more information about the Education Center,
please call
727-453-6800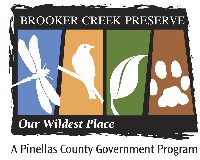 Friends of Brooker Creek Preserve
3940 Keystone Road
Tarpon Springs FL 34688
Voicemail: (727) 934-2680
E mail The Friends